Split Rock Ranch Limited Edition
Custom Fiber Blends
Each Split Rock Ranch Limited Edition Custom Fiber Blend is carded by hand on our Ashford Drum Carder, using some of the softest, most luxurious fibers we can find, including llama, camel down, alpaca, mohair, cashmere, tussah silk, cashgora, faux cashmere, and soft wool blends, including Merino, Rambo, Targhee, Dorset, and Lincoln. The coarser Romney wool is used in very limited amounts only for color.
We have perfected a carding technique that affords wonderful color separation while ensuring perfect fiber blending to assure you of hours of spinning pleasure with each of these blends. Most vegetable matter (VM) is removed during this process. Any VM that remains easily flicks out as you spin. Fiber Blends are sold in batts weighing approximately 1 ounce. You can simply unroll the tube and start spinning from one end of the batt, or tear the batt into thinner strips. Personally, I like to tear the batts into approximately 2 inch wide strips, but I don't tear them completely from the remainder of the batt, I start the next 2 inch strip back up the batt, etc. until I have one long continuous strip of fiber. I then roll the fiber into a ball and drop it into a plastic gallon ice cream bucket so it can roll freely without getting dirty or tangled.
Sure, it's easier and generally less expensive to purchase commercially prepared fibers. However, you won't usually find the wonderful artistically creative color blends, nor the different fiber blends in most commercially prepared fibers.
These custom fiber blends are prepared in limited amounts for a limited period of time. If you see a blend you like, be sure to order plenty of fiber for your project because each batch of fiber is unique and when the Limited Edition is retired, that blend will no longer be available.
If you have a special project in mind, we will prepare a Personalized Custom Limited Edition Blend just for you. Just tell us which colors and fibers you want included and we will prepare a small sample for your inspection and approval before finishing up your Personalized Custom Limited Edition Blend. All PCLE Blends must be ordered in a minimum 4 ounce batch. Pricing will depend on fibers chosen and your PCLE Blend will be prepared within two weeks. A 50% deposit is required on all PCLE Blends over 8 ounces when ordered, the remaining 50% is due after the sample is approved and prior to the PCLE Blend shipping.
To order any of these fibers, please send us an email with the number of ounces you would like to purchase, along with your email address and mailing address. We will send you a PayPal invoice for your fiber and shipping/handling charges. If you have any questions, please let us know.
Following are the currently available Split Rock Ranch Limited Edition Custom Fiber Blends
Wonders of Nature Series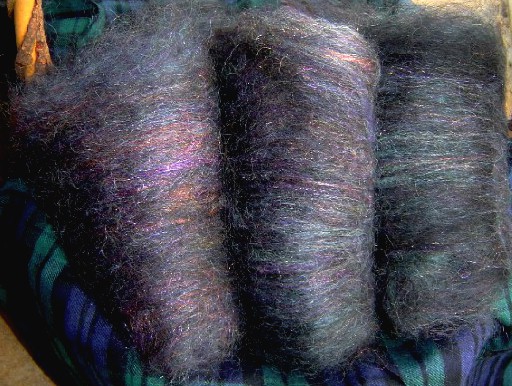 Northern Lights: 62% Wool blend/20% Mohair/8% Llama/6% Silk/4% Flash -

Black, midnight blue, teal, purple, orange, rust
The colors of the northern lights, also known as Aurora Borealis. Soft wools of black Merino, midnight blue Merino lambs wool, teal Lincoln and black, purple and rust Romney blended with black Mohair, black Llama, creamy tussah silk and a touch of Flash for sparkle. Nice, soft fiber.

The photo on the right is of Northern Lights spun two-ply with a third binder thread in copper. Spun by Becky Smith of Spinning-a-Dream. Thanks, Becky, for buying this fiber and creating something truly wonderful with it!
Pacific Paradise: Wool~Alpaca~Mohair - aquamarine/turquoise/sky blue/navy blue/gray/violet/fuschia

RETIRED - No longer available for order
The colors of the Pacific - think of a sunny lagoon on a warm day. Shades of blue, purple and fuschia wool (Rambo, Lincoln, Targhee, Dorset) blended with soft gray Mohair and luxurious gray Alpaca top. Nice, soft fiber that spins up beautifully.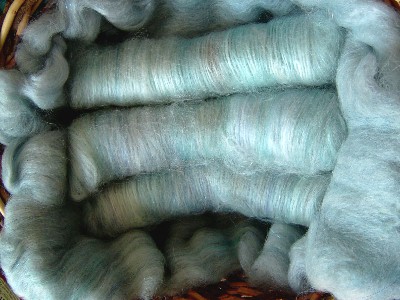 Glacier Bay: Wool~Llama~Alpaca~Mohair~Silk - White/silver/sky blue/mint green
RETIRED - No longer available for order
The colors of a glacier with the eerie glow of green and blue under the icy white top. Gorgeous white llama and mohair blended with luxurious silver alpaca top, and sky blue, mint green and white wool top. A touch of blue/green glitz adds a bit of sparkle to the finished yarn - just like ice glistening in the sun! Nice, soft fiber that spins up beautifully. So fine and easy to spin you can spin this fiber very thin.
Wonders of Nature Series

- Cont.

Autumn Splendor: Wool blend~Mohair~Alpaca~Llama~Camel down~Tussah Silk~Flash - Brown/tan/cream/orange/rust/burgundy/teal green/pine green/grass green

The colors of a gorgeous autumn day. Soft wool blended with mohair, alpaca top, llama and camel down with creamy soft tussah silk for shine and strength and a touch of flash for a bit of sparkle. Next-to-the-skin soft.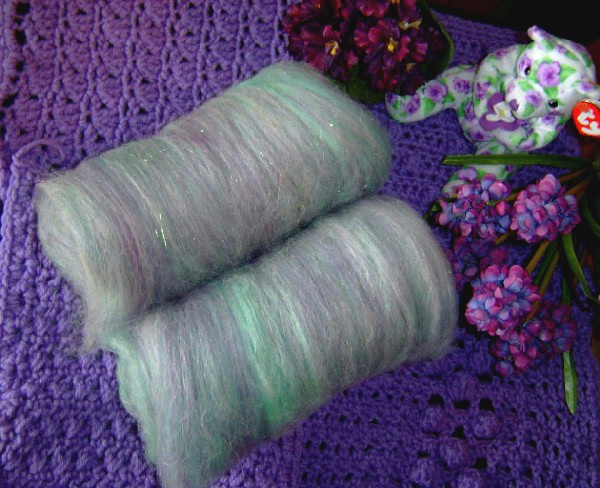 Luscious Lilacs: Wool~Alpaca~Llama~Tussah Silk~Flash -White/silver/green/violet
The colors of lilacs blooming on a beautiful spring day. Soft silver alpaca top blended with white llama loaded with crimp, violet wool top, green soft wool blend, tussah silk for shine and strength and a touch of green and purple flash for a bit of sparkle. Next-to-the-skin soft.
Coffee Shop Series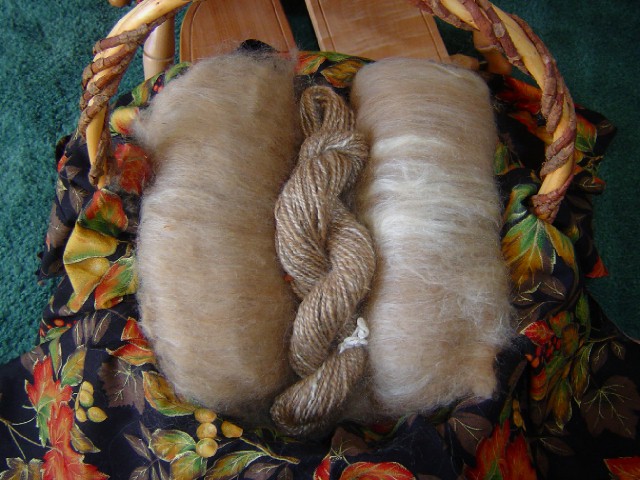 Carmel Latte: Alpaca~Camel Down~Mohair~Tussah Silk - Shades of brown, tan, fawn and cream
Delicious Carmel Latte - and it is as smooth and creamy as it sounds and looks! This exquisite luxury fiber blend of Alpaca, Camel down, Mohair and Tussah Silk is the ultimate in spinning pleasure. It spins up smooth and fine with lots of shine and plenty of strength.