History has documented that alpaca was a fiber of the Gods, only available to Royalty. It was too good for the common folk to wear. Now, alpacas and llamas are being raised in the USA and providing quality alpaca and llama fiber for garments being worn by, yes...even us "common folk"!
Alpaca and llama fiber is hollow, making it lightweight and quite warm. Alpaca fiber is generally finer and softer than llama wool, although llamas are being bred now specifically for finer fiber and many llama fleeces rival some alpaca for softness and quality.
Why is sheep's wool so scratchy and it makes you itch? Sheep secrete lanolin, a waxy/greasy substance that adheres to their wool. To remove this substance from the wool before processing, the wool must be scoured with harsh chemicals, which not only dry out the fibers but makes them brittle and prickly. Sheep's wool is coarser and not as fine as alpaca and llama fiber.
What makes alpaca and llama wool so soft that it can be worn against the skin? Alpacas and llamas produce exquisitely soft, fine fleece without secreting lanolin, wax or oils. Therefore, it does not go through an extensive scouring process to prepare it for use. Alpaca and llama fiber can be used virtually straight off the animal with a minimal amount of processing other than removing the majority of the vegetable matter and carding the fiber to put the fibers in the same direction, making it easier to spin.
WARNING! Once you have used alpaca and llama fiber yarn in your knitting and crocheting projects, you will not want to use synthetic fibers ever again!
Handspun yarn and carded batts of fiber are available at Split Rock Ranch.
Our handspun yarn is generally 2-ply spun worsted in DK, or worsted-weight. Chunky, bulky or sport-weight yarn can be custom ordered. Custom spinning is available - I will spin your fiber or you can purchase a Limited Edition blend from our current stock. Or, design your own custom blend from our available fibers. Yarn is sold on a "per ounce" basis and is available in skein form or it can be made into a center-pull ball at no extra charge.
Batts of fiber are prepared by hand on our drum carder. Most vegetable matter (VM) is removed during this process. Some VM may still be present in the fiber, but it will easily fall out during the spinning process. In-stock carded batts of fiber generally include a blended combination of our available fibers. Batts are approximately 22" x 8" and are sold on a "per ounce" basis. Each batt averages between 1/2 ounce to 1 ounce. You can tear the batts into thin strips for spinning or unroll the tube and start spinning from the end. These batts of fiber are also great for hand felting. Or, order raw fiber or fiber batts for needle felting. The uses for our beautiful fiber are many and varied!
Blending fibers makes a better yarn for knitting or crocheting garments. Alpaca and llama fiber do not have much "memory" so when the garment is stretched, it does not go back to its original shape unless it is blocked damp and allowed to air dry. The addition of sheep wool to the fiber blend adds memory to the fiber which allows the garment to hold its shape better. The addition of tussah silk, soy silk, mulberry silk/bamboo or ingeo gives the garment additional softness and shine. Specialty fibers like cashmere, yak and camel provide additional softness and luxury. Flash or Firestar are synthetic fibers that add lots of shine, sparkle and "flash" to the fiber. They are generally used sparingly as a little flash goes a long way.
Hand painting of yarn and fiber is available for an additional charge.
Custom fiber blending and custom spinning are available at Split Rock Ranch. Contact us for additional information or to place your custom order.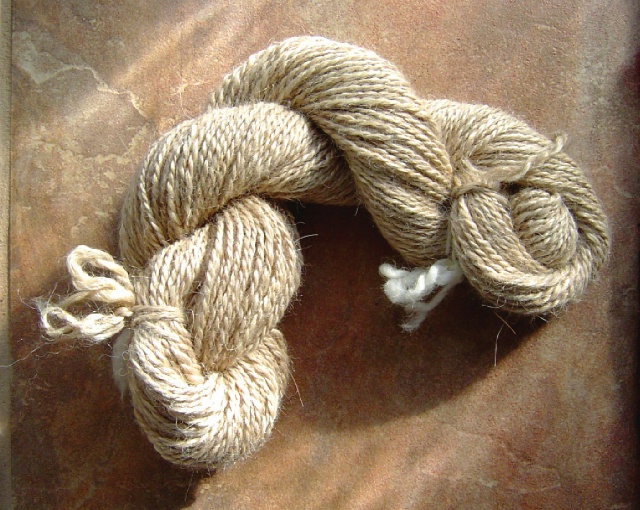 Llama/Soy Silk Handspun Worsted-Weight Yarn
Our currently available fibers:
Alpaca
Llama
Wool
Merino Wool
Tussah Silk
Mohair
Fibers available by Special Order Only (at this time):
Soy Silk
Ingeo Silk
Yak
Camel
Flash or Firestar (synthetic fibers with lots of shine)
Click Here to See our Yarns for Sale
HandDyed Merino Rovings - Click Here to see our colorways